Yes, I realize that everyone and their mother in the fashion blogging world has these, but note: I am not everyone and their mother. Therefore, these are still exciting as hell to me!!!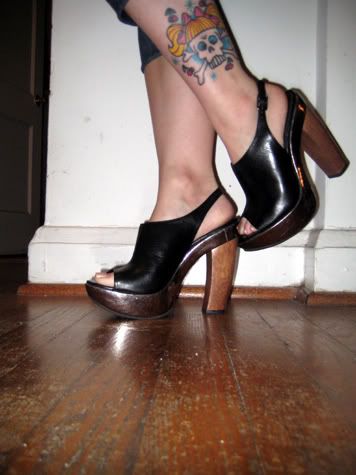 I won't go into the
hell
it took for these babies to finally get to me, but let's just say that I won't ever be placing a special order from Aldo Shoes ever again. :(
These are shockingly comfortable, despite the high heel. I think that the height of the platform sort of cancels out the heel. They don't even feel terribly high, actually!
Now I just can't wait to wear them! I'm already imagining outfits in my head and trying to get a feel for all of the different styles I could wear them with!
I couldn't find the shoes in black when I was messing around with Polyvore here. I know I'd love to pair these shoes with skinny jeans, short skirts, and some quintessential rock n' roll accessories. I should probably wear a simple outfit so that all of the focus is on the shoes, but I feel like these would just up the rockin' quotient of any outfit and turn the fashion amp up to 11. (Kudos to you if you catch the reference.). ;)
How would you wear these shoes? Would you keep the rest of your outfit conservative, or go all-out-wild?