I just couldn't resist that subject line. Truth be told, I'm completely, utterly and madly in love with Sarah Jessica Parker's clothing line, Bitten (sold at Steve & Barry's). There are so many "pros" to this clothing line, it's ridiculous!
1) The clothes are incredibly fashionable! I'm talking seersucker pants, the quintessential "Little Black Dress" and strappy sandals kind of fashionable.
2) They have a wide variety of sizes, everything from size 2 to size 18.
3) The clothes are
comfortable
!!! I know with so many discount clothing chains, you might only pay a few dollars for an item of clothing, but you'll suffer all day from it. I've worn the shoes from the line all day, every day for a week and my feet were still thanking me. ;)
4) Oh, did I forget to mention that
EVERYTHING
is $8.98 or less?!? How crazy is that?! You don't sacrifice quality for style or vice versa either. It's amazing.
Today, I'm wearing a new outfit, almost entirely from this clothing line: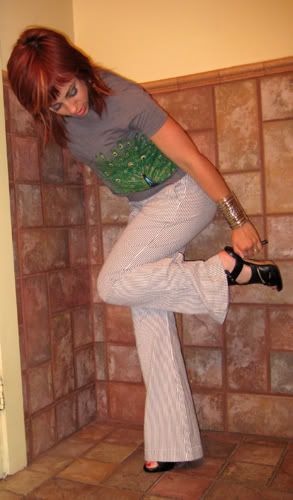 I'd be lying if I said it didn't feel damn good to receive about 10 compliments from various co-workers within the first hour I was in the office. ;)
Shirt: Bitten -
$8.98
Pants: Bitten -
$8.98
Shoes: Bakers -
$66.00
Cuff: Vendor in the middle of the mall -
$14