For so many years, I was all about going to clubs. My friends and I would plan each week who was going, what we'd wear, what songs we'd request - everything. We'd dance our collective asses off and sit in a corner gossiping all night. I never got tired of it and felt completely at home.
One of our popular haunts in Baltimore is ending its weekly industrial party next week, so we all took this past Saturday as an opportunity to visit one last time. All of the same faces were there, all of the same music was played, but something was different. As I get older, it just doesn't seem to fit as well as it used to. I tried on all of my old club clothes, and none of it felt just right.
I threw on my favorite tank top, a jean skirt and these boots. I even later changed out of the boots into my trusty red cowboy boots before leaving the house. I was comfortable, I had fun, and I have no intentions of going back again.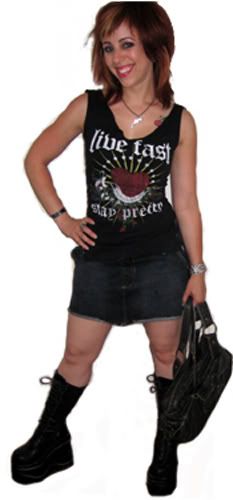 Shirt: Thrifted and deconstructed by me ($3)
Skirt:
Wet Seal
($4 on clearance)
Boots:
Funke Feet
($45)
Bag:
Bitten by Sarah Jessica Parker
, bought at
Steve & Barry's
($8.98)
Necklace:
Girl Props
($7)
**Please note that I fully plan on making these pictures better. I need to a) find my tripod and b) find a corner of the apartment suitable for taking pictures without too many background distractions.**