First of all,
HAPPY BIRTHDAY to the lovely Miss Ashley of Sugar Rush!!
She clued me in the other day that we share a birthday. ;D

Oh, and it's my birthday today!


So this is what 28 feels like. I'm 2 years from turning the big 3-0, and while that's a little scary, I'm in a good spot in my life right now. I have an amazing family, a solid group of friends and I'm generally happy.

It's funny to think how my style has changed over the years. In my late teens/early 20's, I was all about being LOUD. I wore plenty of black vinyl, my hair was never a color found in nature, and I think I wore fishnets on a daily basis. While there's a small part of me that misses that style, I've grown into my own personal style over the years, and it's constantly evolving. I love trying out new things and testing my comfort zones. (Of course, as I'm typing this, I'm in my comfort-zone-outfit. But I digress.) I guess what I'm trying to say is that 28 is going to be a good year. ;)

Oh, and I had to show off my main present from my wonderful husband.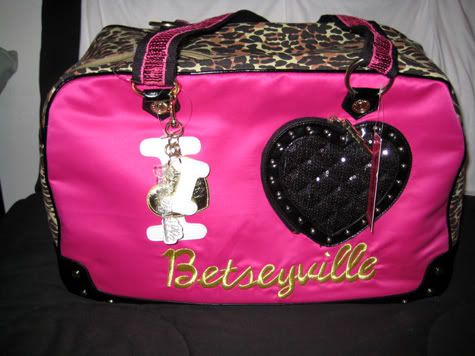 A Betsey overnighter bag!! We're going to be on vacation in Los Angeles in just 3 weeks (!!!) and he thought I needed some fabulous luggage. ;D

Yesterday was also the epitome of a "Good Day" for a sales-rack shopper like me. I got work that a local chain of stores in my area, C-Mart, was closing. They're an interesting store. Upon walking in the door, they're nothing to look at. They're arranged kind of shoddily, almost like a Goodwill. For some reason, though, they get TRUCKLOADS of previous season's clothing from high-end designers like Betsey Johnson, Gucci, Prada, etc. The prices were usually about 50-75% off retail. Crazy! When I heard they were closing, I RAN over there.

I wandered around the store, finding almost nothing. Then...mecca. I saw about 20 refrigerator-sized boxes FULL to the brim with American Apparel stuff. I just started pulling out piece after piece until my arms were full. When I got to the register, the teller rang up my 18 pieces of clothing...for a grand total of $18. I think I actually giggled.




I grabbed skirts, bras, metallic tops, t-shirts - you name it! I saved $162 in total. I'm still on a high from it. ;)

Have you ever gotten such a great steal that you couldn't stop smiling over it? Do you tend to seek out sales, or just happen upon them?