I had a VERY good Christmas this year. Amongst the amazing presents I received was a gem of a gift - a two-day pass to
IMATS
(International Makeup Artists' Trade Show). I had heard stories from online friends about how amazing IMATS was in LA and London, and now that they were doing one in NYC, I could
finally
go. Being that this blog is about both fashion
and
makeup, I'm going to give a review of IMATS and how I felt about everything.
First, there was the line. If you go, be prepared to wait in line for 30-45 minutes at least. Everyone in the line was so happy and excited to be there, though, that the time flew by for me. Once I was in, I immediately became a moron. I walked into a sort of..hmm..let's call it a "museum". There was a display of a bunch of pure GORE and movie magic. While it looked fun, I was anxious to shop my ass off. (We'll ignore the fact that it took me a good 5+ minutes to figure out how to get to the shops. haha)
Once I was in the vending room, you couldn't beat the smile off of my face with a damned stick. It was nuts-to-butts crowded in there, and I was able to keep my claustrophobia mostly in check, but it was hard. There were people pushing and straining to get to each table. Once you got to the tables, though, it was SO worth it. The prices of everything were SO discounted, it's not even funny.
The first day, I got to meet
Lauren/Queen of Blending
and was pretty much floored by her. She knew who I was from Twitter (which still surprises me) and was just AWESOME in every way. We won't even talk about how absolutely
stunning
she was, too.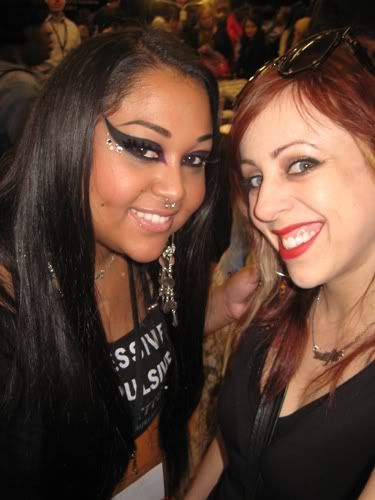 Lauren's makeup was obviously bangin'.
Shortly after that, I was walking around and got to meet the BEAUTIFUL Beth (uk_beth on Live Journal). We've chatted on the MAC Community online for years, and it was so great to finally meet her. Such a sweetie! We walked around and shopped together, snapped a few pics outside and parted ways.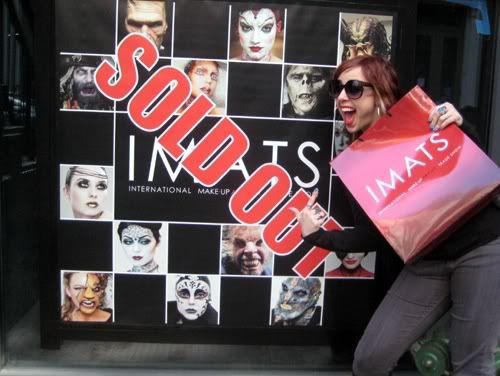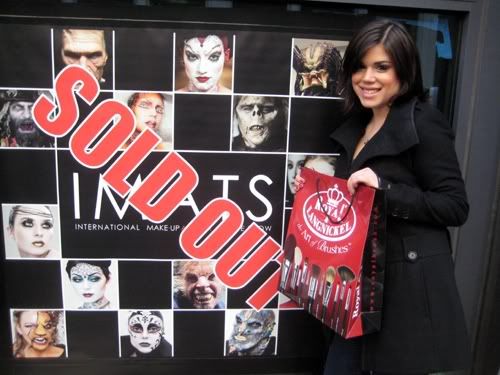 The beautiful Beth!
I decided to go again the next day, but only because there were a few things I wanted to pick up, and a lot of people I wanted to see were going. Namely, these people: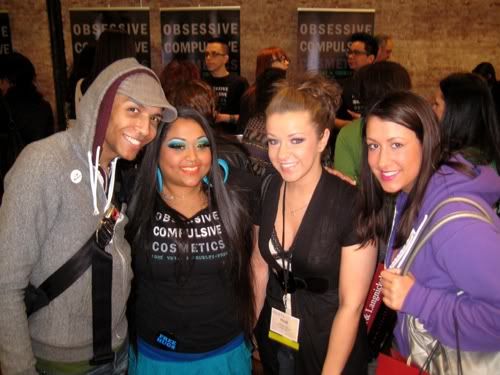 Left to right: Josh/Petrilude, Lauren/QueenofBlending, Brooke/SayAnythingBr00ke, and Joy/JoyMeetsWorld.
It was funny as hell to watch Josh getting stopped every 30 seconds by another adoring fan. ;) I have to admit that I'm pretty impressed with how friendly he still is to every fan, though.
In all, I got...
- 2 glitters & glitter sealant from LA Splash
- 9 brushes & a brush belt
- 6 (!!) lip tars & a loose shadow from Obsessive Compulsive Cosmetics
- 8 shadows in a palette from Mehron
- 1 mixing palette
- 8 pairs of eyelashes from Miss Adoro
Would I do it again? YOU BET YOUR ASS.
Here's all of the video footage I took over the two days (Warning: it's a bit long):